My presentation with Renee Troughton from the Agile Australia 2013 conference called "Visual Management: Leading With What You Can See" is available on Slideshare.
Using task boards or story walls is a key Agile practice, but are you making the most of it? Visual Management is more than just putting cards on a wall, it is a growing style of management that focuses on managing work only by what you can see rather than reports or paper being shuffled around. Visual Management allows you to understand the constraints in the system, mitigate risks before they become issues, report on progress from the micro to the macro. Visual Management can also be used to demonstrate to customers and clients where the work they care about is at. This presentation is all about taking the management of your work to the next stage of transparency. Discover:

* How to identify when your story wall isn't telling you everything and how to adjust it
* What the three different types of story walls are and which one is more suitable to certain circumstances
* Different ways to visualise your product backlogWhy queue columns and limiting work in progress is so important regardless of whether you are using Scrum or Kanban
* How symbols and tokens can be used to give more information
* What else can you use other than story walls to visualise information
* How to ingrain Visual Management into both the team and management structures of your organisation
* Visualising Your Quality, Testing and Team
* What is systemic flow mapping and why is it important
Lynne Cazaly did an awesome visualisation of the talk!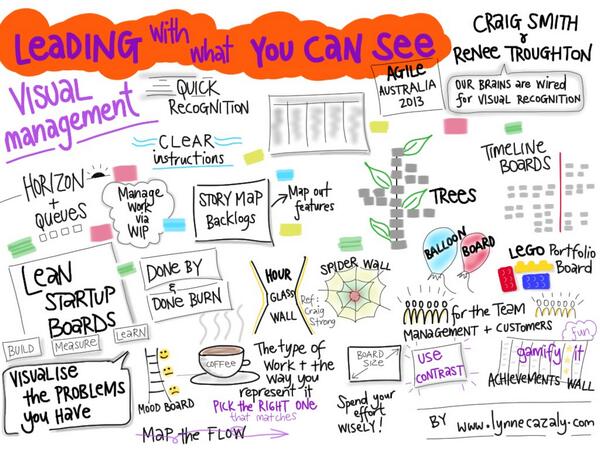 We had some great feedback from people after the talk as well as via Twitter.
Renee also has a (slightly earler) version of the slidedeck online via her Slideshare, with one slide change and one omission…