Since first running the "40 Agile Methods in 40 Minutes" talk in 2014, the sketch note graphic that Lynne Cazaly created as part of the talk has ended up in numerous articles, presentations and in multiple languages.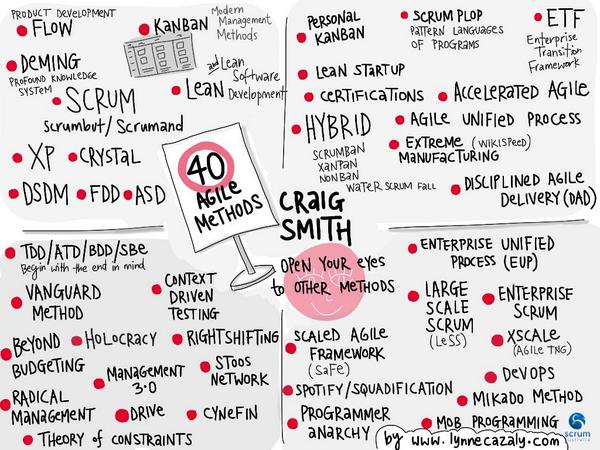 Here are the ones that I am aware of:
Steve Denning has used the graphic numerous times in his articles on Forbes
… Yet what exactly is Agile? How do you explain Agile when there are more than forty different variants of Agile, as depicted in this graphic by Australian designer Lynne Cazaly… And what about all those Agile practices? There are more than 70 different Agile practices. Even the Agile Manifesto, with its four values and twelve principles can be a cognitive stretch for newcomers. How on earth can you explain such a bewildering blizzard of seemingly different ideas?
… There is also Agile in the sense of the various Agile brands promoted by consultants and trainers, of which there are hundreds. These are multiple variants of the same underlying idea of Agile. Yet often there is an insistence on using particular terms and specific named processes, which are defined in this way for the commercial purpose of distinguishing their offering from competing consultants and trainers. The result is mass confusion as shown in the diagram below.
What Is Agile? The Four Essential Elements
… For one thing, many different flavors of Agile have been disseminated by advocates, as shown in the figure below. These variants were issued with the best intentions. But in the resulting cacophony, it is easy to lose sight of what is essential to Agile. And it's even easier for critics to conclude that perhaps Agile is no more than noise and confusion.
Why Finding The Real Meaning Of Agile Is Hard
"I talked to 50+ leaders and consultants about what 'agile' means," the legendary professor of management science at the Stanford Engineering School, Robert I. Sutton, wrote on Twitter late last week. "Read 10+ books. I agree with many principles and grasped it when it focused on software. I am now confused. It has become a huge tent with varied jargon monoxide. Consider this graphic via @stevedenning."
The Five Biggest Challenges Facing Agile
… Today there are multiple versions of what is meant by Agile…
Other references
Flow Framework — a fad, or here to stay? – Karsh Kunwar
Agile methods and frameworks are a dime a dozen (see below), with more methods & frameworks sprouting into existence all the time. Therefore, when I first heard of the new kid on the block — Flow Framework, I was both curious and skeptical.
Agile software development at a glance – Axon Active
When we speak of Agile methodologies, we speak of a way of working that entails a range of widely-adopted lightweight frameworks and methods. Not surprisingly, they include more than 40 Agile methods (see below). The most popular are Scrum, XP, Crystal, among others, whose inventions dated from the early 1940s to the 1990s even before the term "Agile" was coined.
Transforming Software Delivery – Roman Dumiak
OnAgile2017 – the Agile Alliance even used it for a conference, and yet the talk was never accepted in the USA!
Battle of the Frameworks: Choosing Agile Approaches in Government Project – Agile Government Leadership
Julien Karoubi – LinkedIn – it even attracted a post in French
"Les coachs agiles sont dogmatiques…" 👺

Il y a une différence entre donner un conseil, un avis, une préférence et forcer quelqu'un ! 🤗

Chacun peut avoir ses habitudes et ses références.

Historiquement, l'organisation du travail n'etait pas discutable dans l'entreprise.🤐

Plutôt séquentielle, plutôt hiérarchique, plutôt comme à l'usine (spécialisation et standardisation), plutôt pas le choix…😑

Désormais on a ➕ de choix, PRÉDICTIF ou ADAPTATIF, avec ou sans frameworks, avec beaucoup de possibilités au niveau des concepts.🎁

Mais on ne force personne ! 🕊

Offrir des choix, des orientations avec des arguments, fait aussi parti de ce métier :

Tout n'est pas égal à tout 🤔

Oui il y a des avancées, des plébiscites, des effets d'annonce, de l'excitation, de la naïveté des débuts, de l'ouverture, mais surtout de l'espoir.🌞

Plus de 40 méthodes, ce n'est pas une mauvaise nouvelle. 🤷‍♂️

Voici les slides :
https://lnkd.in/e3tzUY5

Voici la vidéo :
https://lnkd.in/eVuF–N

Thks Craig Smith

Ceux qui empêche la réflexion, le choix, l'expression et l'argumentation, j'ai une pensée émue pour vous 😘